What is Cellulose Insulation?
Cellulose insulation is made from recycled wood cellulose, primarily in the form of post-consumer recycled newsprint—a great use for all those papers we place in the blue recycling bin each week! Cellulose generally consists of 75% to 85% recycled newspaper and other paper products. The remaining content is usually a boric acid fire retardant. Cellulose is preferred by some homeowners because it contains more recycled material than fiberglass, which may only be 50% recycled material.
Cellulose Insulation Benefits
Comparable in cost to other types of blown-in insulation, cellulose offers a choice for recycled content that meets energy efficiency standards while making the world a little better. Cellulose insulation has many benefits, including:
Slightly better R-value than fiberglass, which can translate into less material needed.

Cellulose has a National Fire Protection Association (NFPA) Class 1 fire rating, equal to fiberglass and other insulation products.

The boric acid fire retardant also resists mold and is unpalatable to insects.

Cellulose has a lower carbon footprint, meaning it consumes less manufacturing energy that other insulation products.

Cellulose also offers some sound control properties.
Cellulose Insulation Applications
When it comes to insulating attics, we like to say, "seal it tight and insulate it right!" True R-Value's a three-step process attacks air leakage and installs new cellulose attic insulation.
1. Remove old insulation
Some companies will try to supplement old insulation by piling on new insulation. We don't recommend this, and after you see what your old insulation looks like, you won't want to keep it either. Old insulation becomes compacted, damp, moldy, and can hide unpleasant animal by-products and other contaminants. We remove all your old insulation and dispose of it so you can start with a clean slate.
2. Attic Air Sealing
Once we remove the old insulation to access the attic floor, we can air seal the attic area. Attic air sealing is an essential part of making your home Austin healthy and comfortable all year long. We apply a low-pressure spray foam to seal the attic area tightly. Air sealing will give you a healthy home by preventing your air conditioned air from leaking out of living areas, and keeping dust, mold and contaminants from seeping in. Air sealing also forms a moisture barrier for better humidity control inside your home.
3. New Attic Insulation Installation
Once we've sealed the attic area tightly, we're ready to install your new insulation! The technician will blow in the dense pack cellulose insulation evenly. We'll make sure measurements meet the recommended R-value in your area.
Are you ready to take the first step to a more comfortable, healthy and energy efficient home in Austin, TX with new, "green" cellulose insulation? Contact True R-Value for an appointment today!
Want to learn more about installing cellulose insulation?
Call us today!
512-584-4604
Latest Blog Post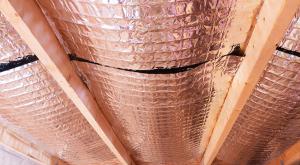 We see a lot of companies recommending "quick fixes" to attic insulation problems. One of the most common in Austin right now is installing radiant barriers, either alone or combined with solar attic Read more